Beijing West train station.
Beijing west railway station is about eight kilometers from the Forbidden City, located at East Lianhuachi Road, Fengtai District. Most trains traveling between south central, southwest, northwest, and south China are boarded here.
This place is huge and there are so many people here, perhaps the other half of Beijing's population that wasn't in the forbidden city.
Getting into the station looked like it was going to be fraught with danger but the tour guide got us into the right queue and then arranged for a separate scanner for the group to help keep us all together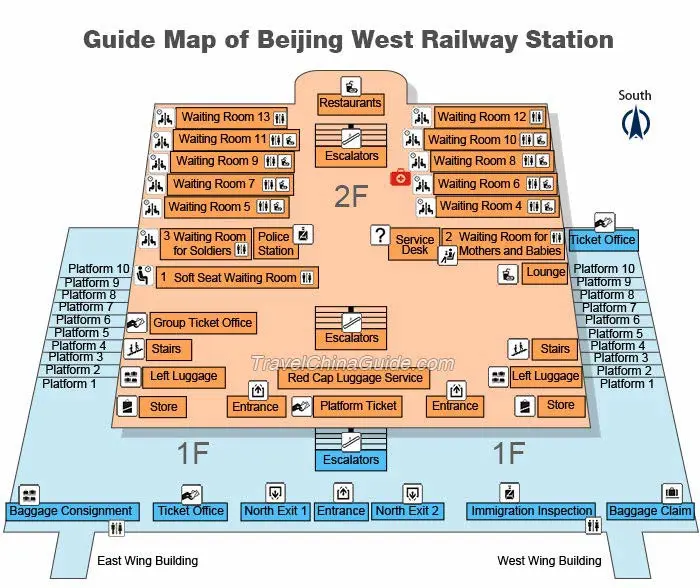 Then we decided to take the VIP service and got to waiting room no 13, the VIP service waiting room which was full to overflowing. Everyone today was a VIP. We got the red hat guy to lead us to a special area away from the crowd.
Actually, it was on the other side of the gate, away from the hoards sitting or standing patiently in the waiting room. It gave us a chance to get something to eat before the long train ride.
The departure is at 4 pm, the train number was G655, and we were told the trains leave on time. As it is a high-speed train, stops are far and few between, but we're lucky, this time, in that we don't have to count stations to know where to get off.
We're going to the end of the line.
However, it was interesting to note the stops which, in each case, were brief, and you had to be ready to get off in a hurry.
These stops were Shijiazhuang, Zhengzhou East, Luoyang Longmen, Huashan North, and Weinan North. At night, you could see the lights of these cities from a distance and were like oases in the middle of a desert. During the day, the most prominent features were high rise apartment blocks and power stations.
A train ride with a difference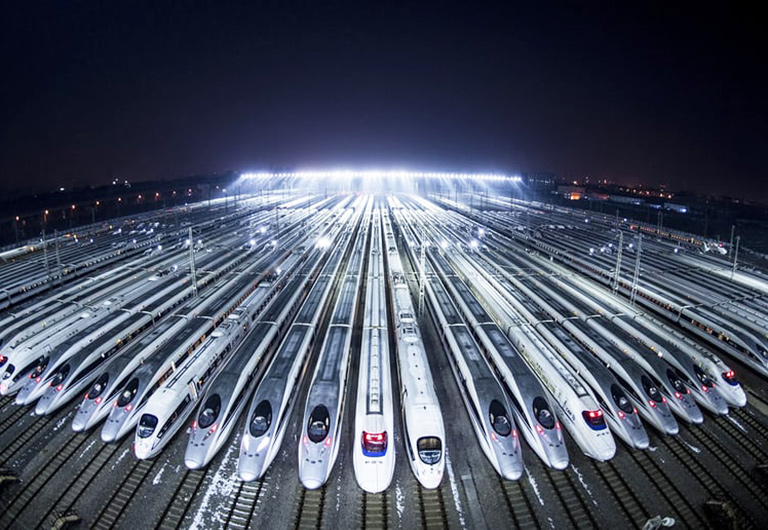 China's high-speed trains, also known as bullet or fast trains, can reach a top speed of 350 km/h (217 mph).
Over 2,800 pairs of bullet trains numbered by G, D or C run daily connecting over 550 cities in China and covering 33 of the country's 34 provinces. Beijing-Shanghai high-speed train link the two megacities 1,318 km (819 mi) away in just 4.5 hours.
By 2019, China keeps the world's largest high-speed rail (HSR) network with a length totaling over 35,000 km (21,750 mi).
To make the five and a half hours go quicker we keep an eye on the speed which hovers between 290 and 305 kph, and sitting there with our camera waiting for the speed to hit 305 which is a rare occurrence, and then, for 306 and then for 307, which happened when we all took a stroll up to the restaurant car to find there had nothing to eat.
I got a strange flavored drink for 20 yuan.
There was a lady manning a trolley that had some food, and fresh, maybe, fruit on it, and she had a sense of humor if not much English.
We didn't but anything but the barrel of caramel popcorn looked good.
The good thing was, after hovering around 298, and 299 kph, it finally hit 300.
We get to the end of the line, and there is an announcement in Chinese that we don't understand and attempts to find out if it is the last station fall on deaf ears, probably more to do with the language barrier than anything else.
Then, suddenly the train conductor, the lady with the red hat, comes and tells us it is, and we have fifteen minutes, so we're now hurrying to get off.
As the group was are scattered up and down the platform, we all come together and we go down the escalator, and, at the bottom, we see the trip-a-deal flags.
X'ian,and the Xi'an North Railway Station
Xi'an North Railway Station is one of the most important transportation hubs of the Chinese high-speed rail network. It is about 8.7 miles (14 km) from Bell Tower (city center) and is located at the intersection of the Weiyang Road and Wenjing Road in Weiyang District.
This time we have a male guide, Sam, who meets us at the end of the platform after we have disembarked. We have a few hiccups before we head to the bus. Some of our travelers are not on his list, but with the other group. Apparently a trip-a-deal mix-up or miscommunication perhaps.
Then it's another long walk with bags to the bus. Good thing its a nicely air-conditioned newish bus, and there's water, and beer for 10 yuan. How could you pass up a tsing tao for that price?
Xi'an is a very brightly lit up city at night with wide roads. It is very welcoming, and a surprise for a city of 10 million out in the middle of China.
As with all hotels, it's about a 50-minute drive from the railway station and we are all tired by the time we get there.
Tomorrow's program will be up at 6, on the bus 8.40 and off to the soldiers, 2.00 late lunch, then train station to catch the 4.00 train, that will arrive 2 hours later at the next stop. A not so late night this time.
The Grand Noble Hotel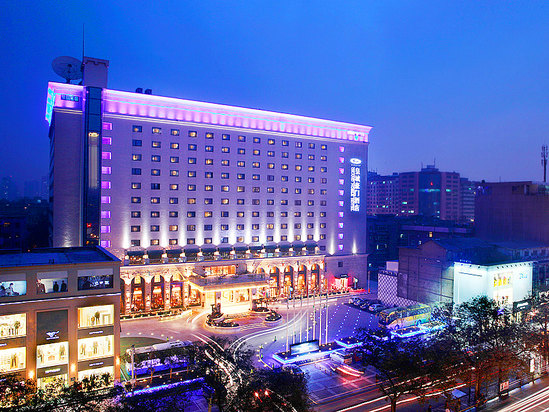 Grand Noble Hotel Xi'an is located in the most prosperous business district within the ancient city wall in the center of Xi'an.
The Grand Noble Hotel, like the Friendship Hotel, had a very flash foyer with tons of polished marble. It sent out warning signals, but when we got to our room, we found it to be absolutely stunning. More room, a large bathroom, air conditioning the works.
Only one small problem, as in Beijing the lighting is inadequate. Other than that it's what I would call a five-star hotel. This one is definitely better than the Friendship Hotel.
In the center of the city, very close to the bell tower, one of the few ancient buildings left in Xi'an. It is also in the middle of a larger roundabout and had a guard with a machine gun.
Sadly there was no time for city center sightseeing.